The most popular cloud humidifier on TikTok
worldwide fast shipping & handling
Expertly designed for better sleep
"If you're thinking about buying this, you should!! It's super cute, works great, and the sound is really lovely. I love using this while trying to relax and it's easy to use. You won't be disappointed!"
"I'm age 63 and have been experiencing sleeping problems. I can say that this fabulous product has improved both the hours of sleep I get and the quality of it too. I recommend it for everyone who struggles with sleep or any sort of insomnia."
craft the perfect atmosphere for better sleep
The solution to your sleeping problems is just 3 easy steps away.

Select the quantity you want and purchase the Snuggling Cloud. We also have multiple scents of essential oils for you to use alongside the Cloud!

Once we assemble your Snuggling Cloud, we'll immediately process and ship it to you. You'll get your Cloud within 7-12 business days.

The Snuggling Cloud is easy to set up, so once you receive it, you'll be able to craft the perfect atmosphere instantly, and fix your sleep issues forever.
Unwind, Sleep,
& Rest Effortlessly
Let the gentle patter of raindrops & soothing whirrs of the Snuggling Cloud guide you into serenity.

This rhythmic pattern encourages a natural transition into uninterrupted sleep, ensuring you slip into the embrace of dreams with ease & tranquility.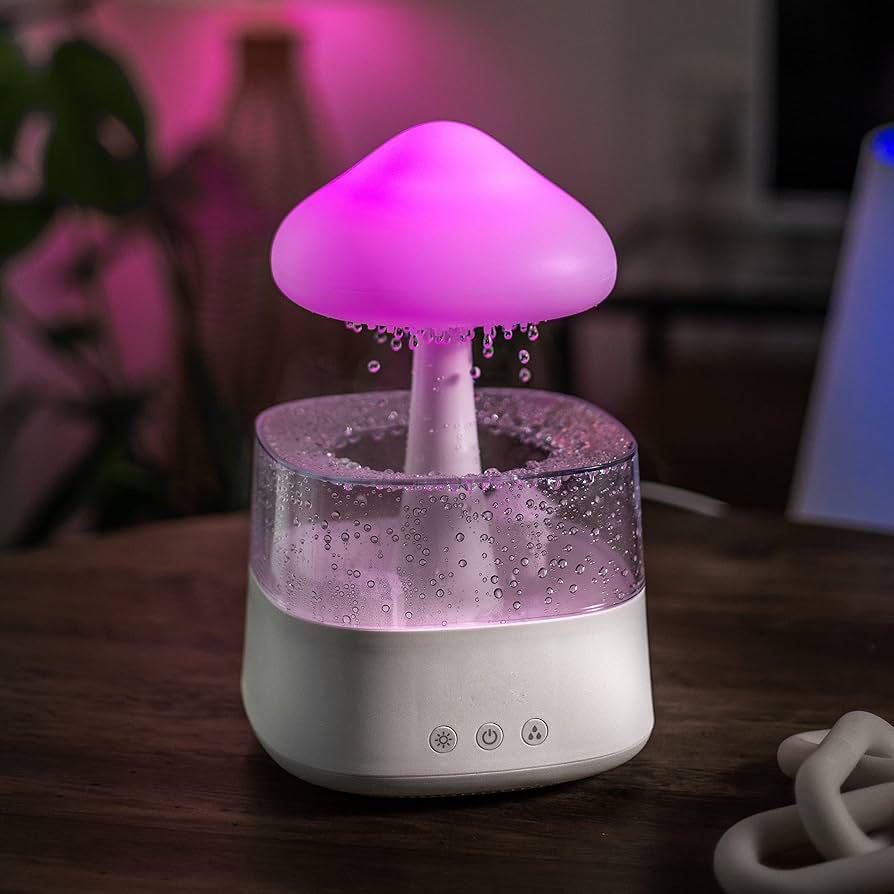 Craft Your Perfect, Stress-Free Atmosphere
Effortlessly reduce stress & anxiety with adjustable brightness, color, mist, & raindrop modes.

Whether it's a soothing hue to unwind or a vibrant shade to invigorate, the choice is yours - experience a sanctuary designed to help you relax, rejuvenate, and let go of the stresses of the day.
Rejuvenating Hydration, Fragrance-Infused Mist
Breathe in the revitalizing mist as the Snuggling Cloud delicately hydrates your surroundings.

This cool mist not only elevates the humidity levels but also promotes a sense of well-being. Feel the soothing touch of moisture, creating an oasis-like atmosphere in your home.

Add a few drops of your favorite essential oil or fragrance to transform it into a gentle, scented mist.
How To Use The Snuggling Cloud
What Our Customers Are Saying
Frequently
Asked Questions
What's included with my purchase?
Is the Snuggling Cloud suitable for use in bedrooms with pets?
Can I use essential oils with the Snuggling Cloud?
How long does the water reservoir last before needing a refill?
Can I use the Snuggling Cloud in conjunction with my existing sleep routine or white noise machine?
The most popular cloud humidifier on TikTok
worldwide fast shipping & handling
Expertly designed for better sleep
Loved by 10,000+ Glowing Faces
cure your sleep problems forever with the snuggling cloud™
Compatible with Fragrances